Maeve Riley, Lead Ecologist at EcoÉireann, attended an event hosted by Data Centre Ireland on 20th and 21st November 2018, which focused on the role and provision of data centres in Ireland. She was highly impressed with the speakers and talks held as part of this event.
Conall Boland, of An Bord Pleanála, set the morning in motion and made many references to the importance of pre-planning and working with an ecological consultancy (such as EcoÉireann) to plan pre-construction ecological constraints which may be posed for the development site.
Following this, Jason Milne, Partner for Environment and Planning at A&L Goodbody, reiterated these statements made by An Bord Pleanála indicating the need to prepare well in advance to avoid costly time constraints to projects.
Data centres can be developed on greenfield and brownfield sites, both of which have the potential to be rich in biodiversity. Where the biodiversity of greenfield sites is well documented providing habitats for many of our vibrant species such as bats, mammals and invertebrates, brownfield sites must also be considered in terms of biodiversity. Brownfield sites have huge potential to support rare and threatened species, such as the Dingy Skipper and Grayling butterflies which forage on the rich diversity of plant species that can be found within the site. These plants also support other vital pollinators such as bees and wasps, species outlined in the All Ireland Pollinator Plan as being of vital importance to the overall functioning of our country through economic, health and environmental benefits.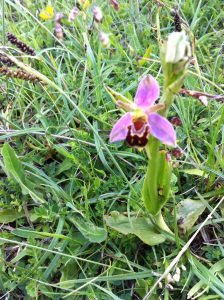 During the event there was a lot of discussion about utilising renewable energy, such as wind and solar, to power these data centres. Developing such a site with a diverse range of needs requires a lot of planning before submission to a local planning authority. EcoÉireann has worked with our sister company EcoNorth on a range of wind and solar projects throughout Ireland and the UK and has a great deal of knowledge of what is required from an ecological point of view to progress these projects.
Ecological constraints are a large part of development in the pre-planning stages and can, without preparation, cause time and financial setbacks. To learn more about timings for ecology surveys, take a look at our survey calendar that identifies when it is best to carry out a survey and when to speak to an Ecologist about undertaking surveys.
The surveys which are most affected by time constraints are bat, breeding bird, wintering bird and invertebrates. Habitat suitability and preliminary ecological appraisals can be carried out at any time of the year but typically spring and summer suit these best to capture the range of plants that may be present. Bat roost potential assessments can also be carried out at any time of the year but it is best to appoint a licenced Ecologist to conduct this work, as all bat roosts are highly protected by law (EU and Irish) and disturbance is deemed an offence unless performed by a licenced person.
Maeve Riley is a highly experienced Ecologist and has been working in the Ecological Consultancy sector for almost 10 years. She is qualified to offer advice and practical solutions for a range of projects and would be delighted to have an informal chat should you require assistance with an upcoming development.